I'm not sure I agree with the whole "sitting is the new smoking" motto, but I do agree we should all be moving more.
I think we can all agree being too stationary and not getting enough exercise is certainly detrimental to our health.
Luckily, we have a lot of tools at our disposal now, so regardless of what your schedule is, there's bound to be a way to get more exercise in.
And yes, this includes the folks that find themselves sitting at desk for work all day.
There are plenty of work related fitness devices to help us stay moving throughout the work day, like standing desks and mini walking treadmills, but good ol' fashioned under desk exercise bikes can still get the job done too.
The key is knowing what to look for and where to find it – and that's where I can help.
In this guide, I'll be going over all the stuff you should consider before buying an under desk bike; I'll also provide my top picks for the year based on these specs.
After reading, you'll be ready to find the best under desk bike to meet your needs.
Let's begin.
Choosing An Under Desk Bike
The first thing I should mention is that I'm talking specifically about bikes that fit under your existing desks here – these are "under desk" bikes.
This is opposed to "desk bikes" which come with their own small desk attached.
This is a small, but important, discernment to make because with the bikes I'll be talking about, you do have to provide your own desk.
Which brings me to the first thing you should probably consider when looking at these types of bikes…
Type of Desk
Yup, the type of desk you have (or plan on getting) will definitely help you decide what kind of under desk bike to invest in.
I say that because some bikes are designed to be used with standing desks and won't fit under traditional height desks, while others will fit under any desk.
The under desk bikes that come with their own seats usually have you sitting in a higher position, making them too high for a standard height desks.
Most of these require an adjustable height or standing desk to fit properly.
Pedalers or any under desk bike that doesn't come with its own seat should be able to fit under any kind of desk.
Resistance
Under desk bikes aren't known for being able to provide intense workouts or anything because their designed with the idea of being able to use them while you're working at a desk.
And I don't know about you, but I'm not sure I could conduct phone calls or type on a computer while doing a HIIT workout.
That said, the resistance capabilities of under desk bikes vary quite a bit.
Some bikes can provide a lot more resistance than others and this is something worth thinking about before making a decision.
Some under desk bikes are designed to simply keep your legs moving throughout the day, others have the ability to challenge you quite a bit more when you need it.
Bikes like this could come in handy if you like the idea of getting a more intense workout in during lunch or during some other break throughout the day.
Now some manufacturers will provide a watt output for their bikes, giving you an objective way to measure how intense their resistance is – others won't.
Seat
The seat and probably more importantly, the backrest, are certainly worth considering before making a decision too – especially if you plan on using this under desk bike as your primary desk seat.
Some bikes come with larger, more comfortable seats and large backrests that mimic traditional desk chairs, others don't.
Some bikes don't come with a seat at all and allow you to place them in front of any seat you like – in which case you'd have to provide your own desk chair.
If you plan on using your bike as your primary seat and plan on sitting on it for hours a day, it might be a good idea to go with one that has a more supportive backrest.
You know, for the sake of comfort.
Weight Limit
This one only applies to the bikes that come with their own seat, so if you aren't looking for a bike like this, you can go ahead and skip this one.
But if you are looking at a bike with a seat, you'll have to make sure it can safely hold ya.
As you'll see, the higher-end desk bikes come with impressive weight limits upwards of 400 lb, while others come with significantly lower limits.
Before you buy anything, make sure it can safely hold you based on its weight capacity.
Warranty
Under desk bike warranties vary greatly depending on the brand and price range.
LifeSpan, for example, backs their under desk bikes with very generous warranties (as you'll down below in a minute), but this isn't the norm.
Most of these bikes come with a simple 12 month guarantee and that's it.
This is especially true for the more affordable pedalers, but some of the more expensive options only offer this kind of warranty as well.
I'm not saying the warranty should necessarily be a dealbreaker, but it should definitely be considered before making a final decision.
Console
Finally, there's the issue of the console – some under desk bikes have one, others don't.
If you like the idea of tracking your workout time, distance, and other metrics, you should look for a bike that comes with a display.
Some bikes come with small LCD consoles built-into the bike, others come with larger consoles that can sit on your desk, allowing you to conveniently see your stats while you work.
Others don't come with any console, so you can't track anything.
Some consoles will also pair with fitness apps via bluetooth, allowing you to track everything from your phone.
When choosing an under desk bike, it's a good idea to think about the console and what it has to offer.
Alright, I think that about covers it when it comes to comparing these bikes, so let's get to the fun stuff already.
The 5 Best Under Desk Exercise Bikes of 2023
#1 LifeSpan C3-GlowUp Under Desk Bike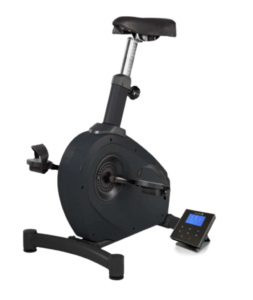 LifeSpan has a pretty impressive lineup of office fitness equipment and the C3-GlowUp is their highest-end under desk bike to date.
I know, that name is kinda awful and I have no idea what it's supposed to mean, but the bike itself is legit.
The C3-GlowUp is basically a real exercise bike that can fit under you desk – well, a standing desk that is.
Looking at it, it looks like someone took an upright bike and simply removed the console and handlebars. It also kinda looks like a stationary version of a unicycle.
Either way, this bike has some great specs.
With a heavy-duty frame and 16 levels of resistance, the C3-GlowUp is an under desk bike that can perform better than most.
And with the ability to reach an output of 300 watts, it can provide enough resistance to challenge users of all fitness levels.
It also has an impressive weight limit of 400 lb, so folks of all sizes can safely use it and it comes with the choice of 2 consoles.
LifeSpan also backs this bike with a great warranty: 10 year frame, 2 year parts, 1 year labor.
The biggest downside to the C3 is that it doesn't come with a backrest, so it could become uncomfortable trying to sit on it at a desk for hours at a time.
And as I mentioned, you'll need a standing desk to pair with this bike.
But if you're looking for a legit exercise bike to use while working at your desk, LifeSpan's C3-GlowUp is a great option. See full review.

#2 FlexiSpot Sit2Go F1 Fitness Chair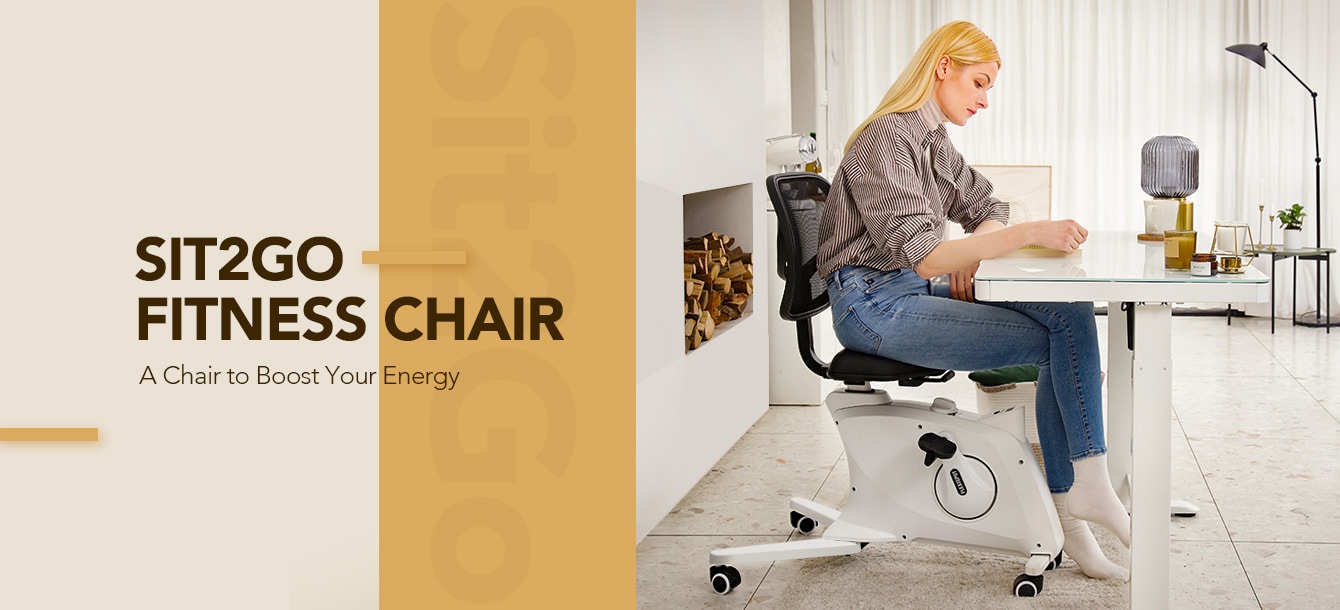 If you're looking for a more comfortable (and more affordable) under desk bike, FlexiSpot's Sit2Go is worth taking a close look at.
Right off the bat, you'll notice that this bike comes with a large, desk chair like backrest and a larger, more comfortable seat.
These 2 features will make the Sit2Go more comfortably to use for longer durations, so if you're looking for a bike to serve as your full-time chair, this could be a great option.
First and foremost though, this bike also requires a standing desk to comfortably fit, so if you're considering it, make sure you're cool with having an adjustable desk.
In terms of performance, the Sit2Go comes with 8 resistance levels and a max resistance of roughly 145 watts.
This is about half of what the C3 can provide, but 145 watts is still a pretty challenging output – especially for an under desk bike.
The Sit2Go is quite and smooth to pedal and it comes with 4 built-in castor wheels that make it easy to move around.
The wheels are also designed to lock when you sit on the bike, so you won't have to worry about the bike wiggling around as you pedal.
This bike is great when it comes to comfort, but with a weight limit of only 220 lb, larger folks won't be able to use it.
And FlexiSpot's warranty isn't nearly as generous – this bike only comes with a 1 year warranty.
But if you're looking for a comfortable under desk bike that won't destroy your budget, FlexiSpot's Sit2Go is still one of the best options on the market. See full review.

#3 LifeSpan Solo Under Desk Bike
The Solo is another under desk bike by LifeSpan, but unlike their C3-GlowUp, this one does come with a small backrest for added comfort with prolonged sitting.
It's also about half the price of the C3, which is awesome, but that smaller price tag means fewer features.
For example, the Solo doesn't come with an adjustable resistance system – it uses a magnetic resistance, which is smooth and quiet, but you can't adjust the intensity.
And the intensity it's set at isn't very challenging.
This means the Solo is fine for simply pedaling to keep your legs moving throughout the day, but you can't increase the resistance for more intensity when you want it.
This alone will likely be a dealbreaker for some, but again, if you just want a smooth pedaling motion and don't care about changing the resistance, you should keep reading.
This bike doesn't come with a console either, so you can't track your time or any other stats either.
But it does come with a 400 lb weight limit and the same great warranty offered on the C3.
And with 4 built-in castor wheels, it's easy to move around the office too.
Overall, the Solo doesn't have many features to speak of, but if you're just looking for a sturdy, smooth acting bike to pair with your standing desk, it could be a good fit. See full review.

#4 Cubii JR2 Under Desk Elliptical
If you're looking for something more portable, more affordable, and that can be used with any desk or chair you already have, you should be thinking of a pedaler-style bike.
And when it comes to these, the Cubii JR2 is the best option I've come across.
I actually got one of these for my brother a while back when he was injured and trying to get moving again and I was pleasantly surprised at how well it actually worked.
As pedalers go, it stays put and offers a smooth pedaling motion, which is more than I can say for a lot of similar products.
The Cubii JR2 is marketed as an under desk elliptical, but it's pedaling motion isn't that different than any other under desk bike.
This little guy comes with 8 resistance levels that are adjusted by a dial in the front and it also comes with a small LCD screen that displays your time, distance, calories, etc.
It also comes with a little chair attachment that lets you connect your office chair to it so you won't start rolling away while you pedal… pretty clever.
The Cubii JR2 is very quiet, lightweight, and it's also bluetooth compatible with the Cubii app so you can track your data from your phone.
It's only backed by a 12 month warranty, but we can't really expect more than that from a $200 machine.
Overall, if you're looking for a smooth acting under desk bike you can use anywhere, the Cubii JR2 is a very smart choice.

#5 DeskCycle 2 Under Desk Bike
Rounding out my list here is a classic pedaler-style under desk bike that's gained a lot of popularity over the years – the DeskCycle 2.
As a pedaler, you can easily put it under any sized desk and since it doesn't come with a seat, you can use it in front of any seat you like.
And the DeskCycle 2 also comes with an adjustable height, so you can customize your fit a little to make for more comfortable use.
And at 23 lb, it's quite a bit heavier-duty than most pedalers – and this is a good thing because it means it'll be less likely to move on ya while you're using it.
The DeskCycle 2 comes with 8 magnetic resistance levels that are adjusted via a dial and it also comes with a small LCD console for viewing your workout stats.
This under desk bike is also covered with a 1 year warranty, which is short, but it's as good as we can expect for this price range.
Overall, the DeskCycle 2 isn't fancy or anything, but it's easily one of the smoothest acting pedaler style under desk bikes around.

Final Thoughts
I think that about does it.
With under desk bikes, treadmills, and standing desks, the ol' "I don't have time to workout any more because I'm always working" excuse just don't work anymore.
Sorry, not sorry.
The truth is we all need to move more and if getting a bike or walking treadmill helps with that, it's definitely worth it.
Anyway, when it comes to choosing an under desk bike, there are a few things you can think about to help you narrow down your search.
First of all, think about the desk you'll be using – if it's height adjustable, you can use any bike you like, if it isn't, you'll have to make sure your bike can fit with your desk.
Pedaler-style bikes can be used with any chair or desk you have; the bikes that come with a seat usually need a higher/height adjustable desk.
Otherwise, it's all about finding an under desk bike that has the most features to fit your needs.
I hope you found this guide helpful and if you have any questions or know of any bikes that deserve a spot on this list, leave a comment below and I'll get back to you shortly.