Moped-style electric bikes combine the style and comfort of a moped with the affordability and riding options of an e-bike, resulting in one heck of a fun ride.
When searching for the right moped-style e-bike, the bike's appearance will likely be the first thing that grabs your attention, but it's a good idea to consider the finer details too.
You know, stuff like the kind of battery it uses, the power of its motor, its range, etc.
If you're worried that this whole process can become more taxing than exciting, don't – I'm here to help.
In this guide, I'll go over all the main specs you should consider when looking for the right moped-styled e-bike, but I'll also share my short list of the best options currently on the market.
After reading, you'll be better equipped to find the right electric bike to fit your needs (regardless of whether or not it's one of the options on this list).
But first things first.
Battery
Motor
Range
Features
#1 Juiced Bikes HyperScorpion
995Wh (52V, 19.2Ah)
1000W
~30 mph top speed
Up to 70 miles
Headlight
Brake light
Turn signals
Dual-suspension
LCD console
#2 G-Force ZF
648Wh (48V, 13.5Ah),
960Wh (48V, 20Ah), or both
750W
~28 mph top speed
35 - 50 or 60 - 80 miles
(depending on battery)
Headlight
Dual-suspension
Elongated saddle
LCD console
USB charging
#3 The RadRunner Plus
672Wh (48V, 14Ah)
750W
~20 mph top speed
25 - 45 miles
Headlight
Brake light
Rear seat
LCD console
#4 The RadExpand5
672Wh (48V, 14Ah)
750W
~20 mph top speed
25 - 45 miles
Folding frame
Headlight
Rear rack
LED console
#5 Himiway Escape Pro
840Wh (48V, 17.5Ah)
750W
~25 mph top speed
30 - 50 miles
Headlight
Tail light
Rear rack
LCD console
USB charging
What Makes A "Moped-Style" E-Bike "Moped-Style"?
A moped is a type of small motorcycle that has a smaller motor and usually tops out around 30 mph and they're commonly seen in Europe, cities, islands, or other metropolitan areas.
Most mopeds are still gas powered, but now we're seeing more and more electric mopeds hit the market too – but electric mopeds and moped-style e-bikes are still different things.
A moped-style e-bike is just an electric bike that looks like a moped and as such, still gives the rider the ability to ride it like a traditional bicycle.
The degree of pedal assist the motor provides will vary depending on the e-bike class, but all e-bikes can still be powered 100% by the rider.
Electric mopeds don't have pedals – they're motor powered all the way.
I wanted to get that point out of the way immediately, but what makes a moped-stye bike "moped-style" can still be pretty vague.
After all, mopeds come in various shapes, sizes, and styles – there isn't one set definition for what these vehicles are supposed to look like.
This is true and while some mopeds do look just like little motorcycles, most of us probably picture the same thing when we think of a moped…
The elongated bench seat, the step-thru frame, side-view mirrors, prominent headlight… you know, basically your typical Vespa.
And this is exactly what I'm talking about for the sake of this guide.
The e-bikes I include on this list will look like this classic interpretation of a moped, but remember, these are all still electric bikes.
But looks aside, what else should we be looking at when we're comparing these e-bikes?
Choosing A Moped-Style Electric Bike
Just like the real thing, moped-style e-bikes are great because they combine comfort and function into a single, fun to ride vehicle.
But it's a good idea to look past their appearance and features for a second and focus on their performance specs they have to offer too.
These include:
The Battery
The battery to an e-bike is like the gas tank to a car – and having a more powerful battery is like having a larger gas tank.
Many factors work together to determine how far your bike can go on a single charge (terrain, how much pedal assist/throttle you're using, your size), but the battery's capacity plays a big role too.
There are a few specs to look at when checking out the battery and these include:
Volts (V)- a battery's voltage refers to how fast the battery can provide electrical current, with a higher voltage meaning the battery can provide electricity to the motor faster. A lot of higher performing e-bikes are now using 48V or 52V batteries for improved power and faster acceleration.
Amps (A)- the measurement that describes the strength of the current leaving the battery
Amp hours (Ah)- the amount of electricity that can be sent in one hour
Watts hours (Wh)- this spec gives you an idea of the batteries capacity, basically telling you the amount of power the battery can provide over one hour (equal to Ah x V).
I know, all of these technical terms can get confusing fast, but the takeaway is that these different components all work together to determine a battery's expected range.
And batteries with higher voltages and higher amp-hours have the longest ranges (ie, the most watt-hours).
But don't worry, you won't have to do much math, brands will provide the expected ranges their bikes can go on a full charge.
The Motor
When comparing moped-style e-bikes, it's a good idea to compare those motors too.
These motors come in various sizes and powers and having a more powerful motor is fun, but depending on your needs, it might not always be the best idea.
Stronger motors are better equipped for accelerating faster and making it up steep hills, but they will also drain your battery faster.
If you're looking for a bike with longer range, going with a slightly weaker motor might be beneficial.
E-bike motor strength is measured in watts (W), just like car engines are measured in horsepower (HP) and just like cars, e-bike motors come in various strengths.
Most e-bikes come with motors somewhere in the 250W – 1000W range.
A lot of e-bikes come with the motor positioned with the rear wheel (rear hub-drive motor), but some come with the motor located near the cranks (mid-drive).
Mid-drive motors tend to provide a smoother feel and are a little more balanced, but they're also more expensive.
Features
In terms of features, these e-bikes can vary a lot.
Some may come with advanced shock absorption systems and smart consoles, while others are more bare-bone and don't come with any display at all.
In the case of moped-style bikes, some will come with the classic elongated seat, others will come with a traditional bicycle seat.
Some of the fancier models come with cool stuff like turn signals, headlights, horns, and various cargo options as well.
There are other things you'll want to consider too, like bike class, size, weight, weight limits, etc., as well, but I wanted to jump to the key specs you can look at rapidly when comparing options.
For more detailed information on what to look for, check out my full e-bike buyer's guide.
Alright, let's get to the fun stuff already.
The 5 Best Moped-Style Electric Bikes
#1 Juiced Bikes HyperScorpion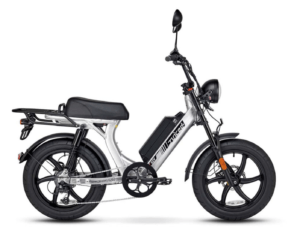 Juiced Bikes offers several different e-bikes that fall in the moped-style category, but chose their HyperScorpion as my #1 pick because it's reasonably priced and loaded with high-end features.
Plus, I love the name…HyperScorpion…just sounds fun.
And in terms of style, I couldn't imagine any bike looking more like a moped – I love the long saddle and step-thru frame, but it's the large headlight and side-view mirror that really nail the look.
And the HyperScorpion performs just as well as it looks.
This beast comes loaded with a 52V/19.2Ah (995 Wh) battery and a 1,000W motor, which gives you a great combination of range and power.
Speaking of which, you can expect the HyperScorpion to last upwards of 70 miles on a full charge, depending on how much pedal assist you use of course.
And that 1,000W motor can provide some serious speed – this e-bike arrives programmed as a Class II bike (20 mph top speed with pedal assist or throttle), but you can switch it to Class III mode and get it upwards of 30 mph.
Just double check the laws and regulations in your area to make sure that's legal in your area.
Additional features include a 2,000 lumen headlight, turn signals, a brake light, dual suspension, a horn, alarm system, an LCD display, a rear rack, fenders, and 8 gears for efficient riding.
The only downside I really see is that this e-bike only has a 275 lb weight limit, so larger folks might be out of luck – oh, it also weighs 102 lb with the battery, so it's not light either.
But if you're looking for a serious moped-style e-bike that's priced to move, the HyperScorpion is a fabulous choice.


#2 G-Force ZF Moped-Style Electric Bike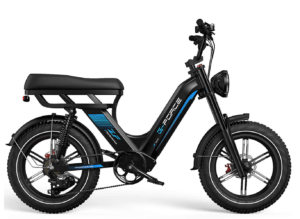 G-Force's lineup is pretty small compared to some of these other larger brands, but the e-bikes (and scooter) that they do offer look great.
And when it comes to moped-style bikes, G-Force only offers the ZF, but with an approachable price tag and some interesting features, it's gotta be a hit.
G-Force's ZF is another e-bike that could easily be mistaken for a moped out on the road – it's lacking the large side-view mirrors, but the long saddle and large headlight scream moped.
This e-bike comes with a 750W hub-drive motor that can reach a top speed of up to 28 mph in Class III mode and hydraulic disc brakes for smooth decelerations.
The ZF also comes with front/rear suspension, 20″ x 4″ puncture resistance tires, and a 7 speed gear shift.
This is all great, but what's really interesting about this e-bike is that you can choose between a few different battery configurations.
When purchasing the ZF, you can get it with a 48V, 13.5 Ah (648Wh) battery or a 48V, 20Ah (960Wh) battery… or you can go all-in and get both batteries.
If you choose to get both batteries, the ZF doesn't pull power from both batteries at the same time, but you can swap the batteries out while on the road to keep going.
The 648Wh battery should give you a range of 35-50 miles and the 960Wh battery should give you a range of 60-80 miles.
Oh, and the ZF also comes with a color LCD console and built-in USB charger (with phone holder), so you can charge your phone while you cruise.
The ZF isn't too heavy either, with an assembled weight of 76 lb, it's fairly light for a moped-style e-bike – but it still comes with an impressive 400 lb payload capacity.
Overall, if you're looking for an affordable moped-inspired e-bike with some great options, G-Force is worth checking out.
#3 Rad Power Bikes RadRunner Plus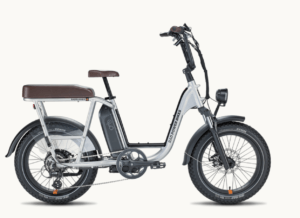 Rad Power Bikes has been around for awhile now and they've become one of the largest e-bike brands in the country, but it all started with their founder creating custom bikes in his garage.
Reminds me of all the Silicon Valley companies that started the same way (probably because I'm currently re-watching "Silicon Valley" on HBO… great show by the way).
Anyway, these days, Rad has a nice selection of e-bikes to choose from and a few of them could qualify for this guide, but their RadRunner Plus especially caught my eye.
In terms of appearance, the RadRunner Plus doesn't look quite as much like a moped and some of the e-bikes already mentioned, but the step-thru frame, fenders, and headlight definitely still gives it the overall feel of a moped.
The seat on the RadRunner Plus is a traditional bicycle saddle, but it does come with an elevated rear seat and foot pegs, so it can comfortably handle 2 riders.
And if you adjust the height of the bicycle seat to align with the rear seat, you'd still get the elongated saddle experience of a moped.
The RadRunner Plus comes with a 48V, 672Wh battery that can provide an expected range of 25 – 45 miles per charge, depending on riding conditions.
This is paired with a 750W hub-drive motor that can reach a top speed of 20 mph with pedal assist or the half-twist throttle (making this a Class II bike).
I mentioned the headlight already, but it also comes with an integrated brake light, 5 levels of pedal assist, an LCD display, a 7 speed shifter, and is compatible with several different accessories for customization.
The RadRunner Plus also has a max weight capacity of 300 lb and weighs in right around 77 lb with the battery installed.
Overall, Rad Power Bikes is a great brand and their RadRunner Plus is a great moped-style e-bike, especially for folks who like being able to customize their ride.


#4 Rad Power Bikes RadExpand5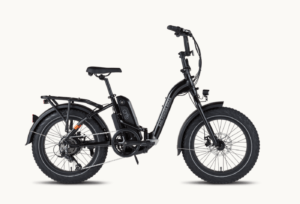 Yup, I added another Rad Power Bikes option on this list – hey I told ya Rad Power Bikes has several moped-style e-bikes in their lineup, it's not my fault they're all awesome.
Anyway, I especially wanted to include the RadExpand5 because it does something no other bike on this list so far can do – it folds.
That's right, this bad boy folds in half for easier storage, something that may come in handy for folks living in smaller apartments or homes.
When it comes to appearances, I would agree the RadExpand5 doesn't look exactly like a moped, what with the standard seat and very "bikey" looking handlebars, but it does come with headlight, a step-thru frame, fenders, and a large rear rack.
And since it is a folding bike, I'm willing to be a little more lenient.
In terms of performance, the RadExpand5 is very similar to the RadRunner Plus mentioned above – it too comes with a 48V, 14Ah (672Wh) battery and a 750W hub-drive motor.
And I forgot to mention this earlier, but all of Rad Power Bikes' e-bikes are Class II, meaning they all top out with a max speed of around 20 mph.
This makes it a lot easier to comply with local riding laws and regulations.
But with this battery and motor, most riders should get somewhere between 25 – 45 miles with a full charge, which is pretty solid for a folding bike.
The RadExpand5 also comes with 4 levels of pedal assist, a half-twist throttle, and a simple LED display.
This e-bike only has a 275 lb weight capacity, so larger folks are out of luck, but with an assembled weight of around 63 lb, this model's a little easier to move around than some.
Overall, if you're looking for a moped-style e-bike that doesn't take up a lot of storage space, the RadExpand5 is a great choice.


#5 Himiway Escape Pro
Rounding out my list is a sleek-looking e-bike by Himiway, a brand that's been going strong since 2017.
According to Himiway, their goal from the start has been to create e-bikes that can go the distance – and I mean that literally, they want their bikes to have longer ranges than their competitors.
Well, their Escape Pro might not have the longest range (30 – 50 miles), but it's still a great-looking moped-style bike with a lot of high-end features.
And I would argue that this e-bike does look a lot like a moped, what with the elongated saddle and rear rack, and a really cool one at that.
More importantly, the Escape Pro comes with a 48V, 17.5Ah (840Wh) battery and a 750W hub-drive motor.
This e-bike also comes with 5 levels of pedal assist and a half-twist throttle and maxes out with a top speed of around 25 mph with pedal assist (making this a Class III e-bike).
Other great features include dual-suspension, a 7 speed gear shift, headlight/taillight, and a back-lit LCD console that includes a USB charging port for your phone.
And if you find yourself often needing to transport cargo, you'll appreciate the 330 lb max payload capacity this bike comes with.
This weight limit is awesome, but something worth knowing is that the seat isn't height adjustable and this e-bike can only really handle folks upwards of 6'1″ tall.
But if you fall under that height requirement and are looking for a powerful e-bike that's priced to move, the Himiway Esacpe Pro is worth considering.

Final Thoughts
Like mopeds, moped-style e-bikes are designed with both comfort and function in mind.
As you likely noticed, all the e-bikes mentioned above come with powerful motors that are capable of conquering pretty much any terrain, allowing you to cruise to town or explore off the beaten path.
These e-bikes look cool, but they also work really well as a utilitarian vehicle with multiple uses.
When comparing these e-bikes, check out those performance specs because these numbers will tell ya a lot about the bike.
Then it's all about finding one that has the features you're looking for too.
And before you take your e-bike out in public, please double-check your local regulations regarding these devices because a lot of areas don't allow Class III e-bikes.
Well, I think that's about all I got here, so I'm gonna wrap this up.
I hope you found this guide helpful and if you know of any great moped-style e-bikes that deserve a spot on this list, please share – leave a comment below and I'll get back to you shortly.