In a world where large, HD touchscreens seem to be everywhere, the S10i and its mere 10″ console may appear outdated and not worthy of considering.
But there's more to this indoor cycle than its console.
The Commercial S10i also happens to come with 22 magnetic resistance levels, a power incline function that mimics climbing hills, a built-in cooling fan, and a heavy-duty frame that accommodate riders weighing up to 350 lb.
And even though that 10″ HD touchscreen may look small compared to newer models (by the way, I was being sarcastic earlier), it's still large enough to see all your iFit workouts clearly when riding the cycle.
All things considered, I think the Commercial S10i still has a lot to offer – especially if you can get if for free with a 4 year iFit commitment.
But before you make up your mind, you need to know what this bike is all about – and that's where I can help.
In this review, I'll be going over everything the S10i has to offer, but I'll also compare it to a few similarly-priced cycles to see how it stacks up against the competition.
After reading, you'll know whether or not the S10i is a really a good deal.
Let's roll.
The NordicTrack Commercial S10i Studio Bike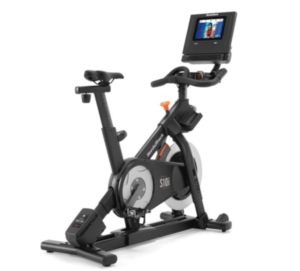 The S10i is one of three indoor cycles in NordicTrack's current lineup, or at least it is at the time of writing this – NordicTrack has been switching things up quite a bit lately with their lineups, so I apologize if this isn't accurate when you read this.
But regardless, the S10i is the most affordable indoor cycle they offer, with the Commercial S22i and Commercial S27i coming with higher price tags.
Actually, as I'm writing this, the prices on these other bikes aren't that different… but more on that later.
Anyway, the S10i has been around for awhile and at the time of writing this, it's part of the NordicTrack+ program, where you basically get a free bike as long as you commit to 4 years of iFit.
This could make a lot of sense if you're confident that you'll be down for the whole streaming thing for the long run, but again, I'll go into more detail a little later on.
I want to start this review off with a rundown on the S10i's performance specs – you know, the stuff that'll really affect the quality of your workouts.
Pros
10″ HD touchscreen console
Heavy flywheel
22 magnetic resistance levels
Heavy-duty frame
350 lb weight limit
Free with 4 year iFit commitment
Incline/decline
AutoAdjust feature
Cooling fan
Fully adjustable seat
Pair of 3 lb dumbbells included
Good warranty
Cons
Console small compared to newer models
Handlebars not fully adjustable
Resistance
When it comes to indoor cycles and performance, it all starts with the flywheel and resistance system.
Most indoor cycles these days use magnetic resistance systems and the S10i is no different.
Magnetic systems have become popular because they tend to be smoother than friction brakes, plus you don't have to worry about replacing the brake pads, which cuts down on maintenance.
So, the fact that this cycle uses a magnetic system is a good start.
The S10i also comes with 22 resistance levels, which gives you a fair amount of control over the intensity of your workouts.
That said, there are plenty of cycles now that followed Peloton's lead and come with 100 magnetic levels (like Schwinn's IC4).
Having more resistance levels doesn't necessarily mean more resistance, but it does mean you can make smaller adjustments to your resistance between levels, which I think is a perk in itself.
But with 22 levels, you'll still have a lot of control over your workouts.
When it comes to the flywheel, being heavy is usually a good thing because the extra weight helps build more momentum, which in turn keeps the flywheel moving between pedal strokes.
This helps create a smoother pedaling motion, which is always a good thing.
Flywheel weights vary greatly and it's not uncommon to see flywheels weighing 40 – 50 lb these days, but I think anything around 30 lb or heavier is certainly heavy enough to provide a great feel.
That said, NordicTrack doesn't disclose the flywheel weight for the S10i.
I've seen some sources report it as weighing 27 lb, others reporting it to be 29 lb… personally, I would assume NordicTrack uses the same 32 lb flywheel for the S10i that they use on their other indoor cycles, but who knows.
The point is, it's somewhere around 30 lb, which should be heavy enough to offer a great ride.
So, with a heavy flywheel and 22 magnetic resistance levels, I would say the S10i is well-equipped to offer a smooth workout.
Frame
But there's more to performance than simply having a nice resistance system and a heavy flywheel – there's also the bike itself.
Having a smooth pedaling motion isn't gonna mean much if the frame feels lightweight and flimsy.
It can be difficult to get an idea as to how heavy-duty a bike is without trying it out, but there are a few things we can look for to get a good idea.
These include the assembled weight and weight limits.
The assembled weight tells you exactly how heavy the bike is and seeing a heavier bike is a good sign it'll feel more secure during workouts.
After all, heavier bikes are harder to move, so they shouldn't wobble around much while you're on it.
With this in mind, NordicTrack doesn't give us the assembled weight – instead, they give us the "in box" weight, which includes the weight of all the packaging as well.
This means we have to do a little subtracting to get to the true assembled weight of the S10i.
The S10i comes with an in box weight of 192 lb.
If we subtract a conservative 40 lb or so from this, that would put the true weight of this bike somewhere around 150 lb, which is really heavy for an indoor cycle.
This is right up there with Sole's SB900 (weighs around 160 lb), which is one of the heaviest-duty indoor cycles around; it's also about 15 lb heavier than the Peloton.
With a weight this high, you won't have to worry about the S10i feeling stable during use – this thing is heavy.
It also comes with a great weight capacity of 350 lb, allowing folks of all sizes the ability to safely use it.
Overall, the Commercial S10i scores very highly in the frame department – this is a very heavy-duty bike that should feel rock solid during workouts.
Warranty
NordicTrack backs their Commercial S10i Studio Bike with the following home warranty:
10 year frame
2 year parts
1 year labor
This is the same warranty NordicTrack offers on all their equipment and I think it actually works pretty well for the S10i.
There are a few brands out there (like Sole) that still offer lifetime frame warranties on indoor cycles, but most these days only offer upwards of 5 years (like Peloton or Diamondback).
And 2 years on parts is pretty good too, considering most offer somewhere between 1-3 years.
A year on labor is standard stuff, so nothing too special going on there.
But overall, I think NordicTrack offers a fair warranty for the S10i.
Features
The NordicTrack Commercial S10i comes with the following features:
10″ HD touchscreen- the console on the S10i is pretty small for NordicTrack's standards, but let's be real, it's still an HD touchscreen and it's still large enough to easily see while riding the bike.
iFit- that touchscreen is there for a reason and that reason is so you can use iFit. iFit is NordicTrack's streaming app and this is what gives you access to the instructor-led workouts and all the other goodies this bike offers. As part of the NordicTrack+ program, a 4 year iFit membership is required to get this bike (but the bike itself is free).
Incline/decline- NordicTrack's cycles have something you probably aren't going to see on any other cycle and that's the ability to incline/decline. With a built-in motor, you can incline up to 20% or decline down to -10%, mimicking the sensation of riding up or down hills. I'm not sure this really changes the quality of your workouts, but it's an interesting feature if you're looking to mimic the sensation of riding outdoors.
AutoAdjust technology- with iFit, you also get to use this feature that allows the instructors to automatically adjust your resistance and incline settings to match what's going on in the workout. A cool feature, but you can control things manually too of course.
Cooling fan- here's something you don't see on most indoor cycles. The built-in fan can help keep ya comfortable during tough workouts.
Quick-touch buttons- these console buttons let you instantly set your incline and/or resistance without having to use the arrows.
Fully adjustable seat- you can adjust the height and fore/aft position of the seat, making it easier to find a comfortable riding position.
Height-adjustable handlebars- the handlebars aren't fully adjustable, but you can adjust their height.
Toe cage pedals- the included pedals are compatible with sneakers, so you don't have to worry about wearing riding cleats.
3 lb dumbbells- NordicTrack includes a pair of 3 lb dumbbells, so you'll be ready for those iFit workouts from day 1.
Dual water bottle holders- and yes, there's room for not one but 2 water bottles, so you have zero excuses for not staying hydrated.
Price
Ok, I would say the S10i comes with a nice combination of performance specs and features, but we can't forget one of the most important considerations – price.
At the time of writing this, the S10i is part of NordicTrack's NordicTrack+ Program, which essentially gives you a free piece of equipment (in this case the S10i) when you agree to a 4 year iFit membership.
And considering iFit costs $39/month, that means 4 years of the service is going to run you $1,872.
You can pay that lump sum all at once and basically get 4 years of iFit for free, or pay it as $39 monthly installments and get your bike for free.
I like the idea of getting a free bike, especially if you're confident you'll still be using iFit 4 years from now.
But the S22i is only like $100 more and it comes with a 22″ pivoting screen that would be a lot easier to see when off the bike (it also comes with 2 additional resistance levels).
Of course, with the S22i, you'd have to pay the $2k to buy the bike and still pay the $39/month to access iFit – which means if you used both bikes for 4 years, you would end up spending $2k more with the S22i than you would for the S10i.
In terms of the bike itself, I think $1800 is a bit high, especially considering you can still find NordicTrack's S15i on Amazon for around $1300…
Final Thoughts
Ok, interesting stuff here.
As bikes go, I think the S10i has a lot going for it, especially when it comes to the console features.
Its performances specs are legit too, but you don't see many bikes with incline/decline features and built-in cooling fans, so this is what really sets this bike apart from most.
Well, that and its streaming abilities – iFit has become the leader in streaming workouts (sorry Peloton, but I think it's true).
All of NordicTrack's indoor cycles are very similar when it comes to their performance specs – the only real differences are found in the size of their consoles.
So if you're ok with a smaller screen, I could see the S10i making a lot of sense because you do essentially get a free bike by doing their deal – assuming you plan on using iFit for the next few years.
And honestly, I think anyone considering one of these cycles should plan on using iFit for the next several years because I don't think it makes sense to buy a NordicTrack cycle without iFit – there are too many great indoor cycles that cost a lot less.
It's the streaming capabilities and extra features that iFit brings to the table that makes these bikes what they are.
And worse case, even if you stopped using iFit after a year or 2, you still would end up spending less than you would for the cost of an S22i or S27i.
Now if you really aren't sure about an iFit commitment, the S15i might be worth considering, since it is a few hundred bucks less than what you'd end up spending on a 4 year iFit membership… so definitely worth thinking about.
I should also mention that ProForm has a similar program too and you can get their lighter-duty Studio Bike Pro for free with a 3 year iFit membership.
It's not as nice a bike, but for smaller users looking to save even more money, it could make sense.
All things considered though, I think NordicTrack's Commercial S10i is a pretty good deal if you're looking to save some money with your streaming.