Horizon's 5.0 IC is an affordable indoor cycle designed to pair with fitness streaming apps via bluetooth, giving folks a more affordable way to access instructor-led workouts.
This isn't the first time this has been done (anybody remember Echelon?), but Horizon's take on it is easily one of the best in its price range.
Highlights of the 5.0 IC include a 28.6 lb flywheel, 100 levels of magnetic resistance, and pedals that are compatible with sneakers and SPD cleats.
It also comes with a fully-adjustable seat, a tablet holder, and a solid warranty.
The only thing really missing here are the dumbbells, but otherwise I think Horizon has a nice budget cycle here.
But I'm getting ahead of myself.
In this review, I'll go over all the specs and features the 5.0 IC has to offer; I'll also compare it to some of the other top cycles in this price range.
After reading, you'll know whether or not Horizon's 5.0 IC is worth investing in.
The Horizon 5.0 IC Indoor Cycle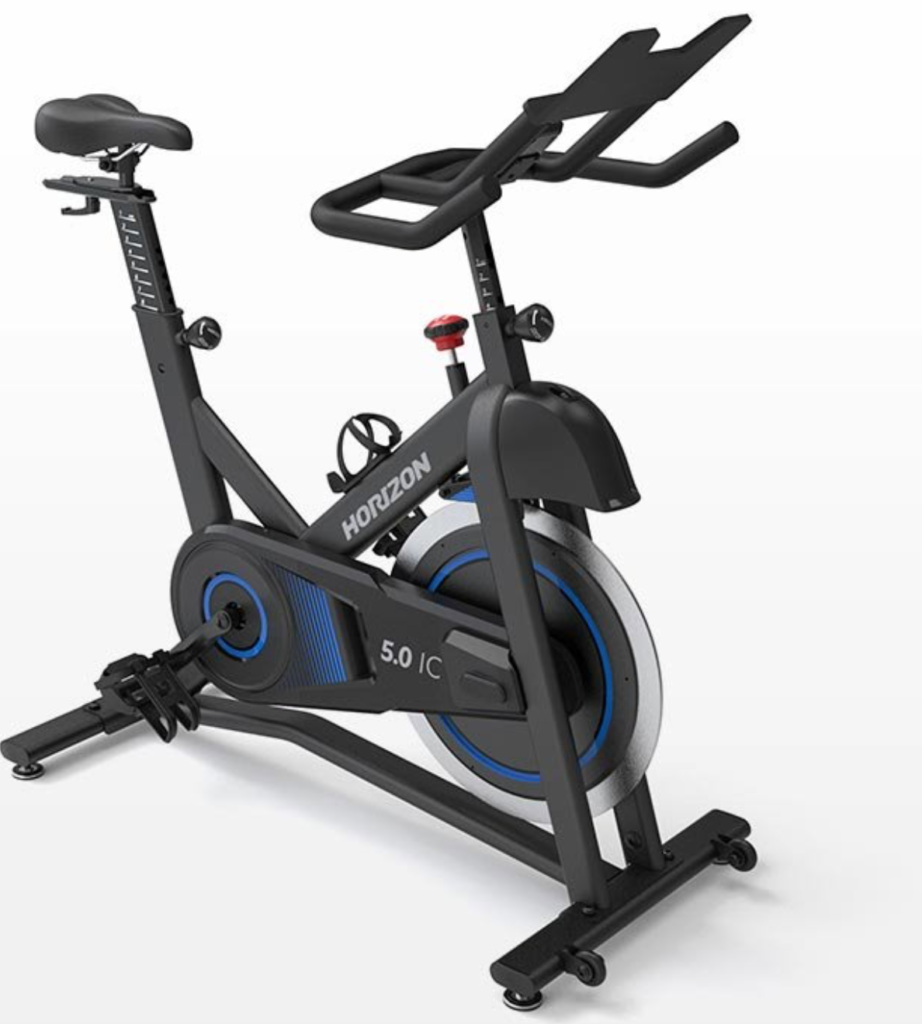 Horizon's a respected brand with a good reputation. They offer a relatively small lineup of cardio machines, including a few bikes, ellipticals, and rowers, but it's their treadmills that really put 'em on the map.
I actually own their 7.8 AT Treadmill and think it's awesome… but that's a story for another day, we're here to talk about the 5.0 IC.
The 5.0 IC is one of Horizon's 2 newest additions to their lineup, with the other being the slightly upgraded 7.0 IC.
All of Horizon's exercise bikes are budget-friendly, but the 5.0 IC is their most affordable bike to date.
We'll talk price more specifically down below, but with a cost well-under $1k, it's fair to say this bike is quite affordable considering how expensive higher-end indoor cycles can get.
Anyway, let's start by going over the performance specs the 5.0 IC has to offer.
Pros
28.6 lb flywheel
100 levels of magnetic resistance
Bluetooth compatible with fitness apps
Heart rate monitor compatible
Fully adjustable seat
Height adjustable handlebars
Dual-sided pedals
Tablet holder
Great warranty
Cons
Only a 250 lb weight limit
Dumbbells not included
Resistance
When you think about it, most exercise bikes are pretty simple devices.
When you strip down all the fancy console features and comfort items, in terms of performance, we're really talking about a spinning flywheel, a drive train (chain or belt), and a resistance mechanism (friction brake or magnetic).
Most indoor cycles are using belt drives now, so that's rarely an issue and most are also using magnetic systems as well (even budget bikes).
And yes, some bikes come with much better magnetic systems than others, but even a lot of affordable cycles with magnetic systems can offer really smooth rides.
Especially if the flywheel is of sufficient weight.
Having a heavier flywheel is usually a good thing (I say "usually" because some cycles, like Keiser's M3i, are designed specifically for lightweight flywheels) because the extra weight makes for a smoother pedaling motion.
The extra weight builds more momentum, which in turn helps keep the pedals moving between strokes.
How heavy is heavy enough?
Tough call.
Personally, I like to see flywheels in the 30 lb+ range to ensure a smooth feel, but that rules not written in stone or anything.
With this in mind, the 5.0 IC is packing a 28.6 lb flywheel.
There are a lot of indoor cycles, even really affordable ones, packing heavier flywheels than this – for example, Yosuda's $400 cycle comes with a 35 lb flywheel.
But the 5.0 IC's flywheel isn't tiny either.
At this weight, it's really close to the 30 lb line I draw in the sand, so it should be able to offer a fairly smooth pedaling motion during workouts.
Especially for a cycle in this price range.
I should mention that ProForm's Carbon CX, likely one of the 5.0 IC's biggest competitors, also uses a 28 lb flywheel (but only comes with 16 resistance levels).
The flywheel could be a little heavier, but what I really like is that the 5.0 IC comes with 100 levels of magnetic resistance.
Not only does this give you a lot of control over your workouts, but it also matches the scale used by Peloton with their bike and streaming app.
If you plan on using Peloton's Digital App, this will make it easy to follow along with what the instructors are saying.
Just keep in mind that having more resistance levels doesn't necessarily mean more overall resistance – it just means you can make smaller adjustments between levels.
Overall, though I think Horizon's 5.0 IC scores pretty well in the resistance department – especially when it comes to using Peloton's app.
Frame
When checking out a bike's frame, I'm mostly interested in how stable it's going to feel when riding – in other words, how "heavy-duty" it is.
I hate to use that term because it's thrown around so much these days that it hardly means anything anymore, but when I use it, I'm being quite literal.
I like to compare assembled weights because this spec tells us exactly how heavy a bike is.
And generally speaking, the heavier a bike is, the more stable it should be during use.
The idea being that a heavier bike will be less likely to wiggle around and move.
The 5.0 IC come with an assembled weight of 85 lb, which is pretty light considering most of the nicer cycles weigh somewhere in the 100 lb+ range.
When I see an assembled weight this low, I'm expecting this cycle to have a thinner frame that could be prone to a little wiggle here and there during workouts.
The lighter flywheel on this cycle will also contribute to a lower overall weight as well.
For the sake of comparison, Schwinn's IC3, which goes for around $699, weighs in at 100 lb (but it's flywheel is quite a bit heavier at 40 lb).
So, the 5.0 IC is a pretty lightweight bike, meaning it's probably better suited for smaller riders.
This is confirmed when we see that this cycle has a max weight limit of only 250 lb.
To be fair, affordable cycles tend to be lighter-weight, but it would still be nice to see a little extra bulk on the 5.0 IC's frame.
But, if you fall within the weight restrictions and don't mind a little wiggle here and there, you should be fine.
Warranty
Horizon backs their 5.0 IC Indoor Cycle with the following residential warranty:
Lifetime frame
1 year parts
1 year labor
Ok, so, right off the bat, a lifetime frame guarantee is awesome.
This is obviously as long as a warranty can be for, but it's also surprisingly rare in the world of indoor cycling, regardless of price range.
A year on parts and labor is pretty standard stuff for this price range, although Schwinn does offer 2 years on parts for their IC3 (but only 5 years on the frame).
For the sake of comparison, ProForm's similarly priced Carbon CX comes with a 10 year frame, 1 year parts/labor warranty.
Overall, I think Horizon offers a generous warranty for this cycle.
Features
The Horizon 5.0 IC Indoor Cycle comes with the following included features:
LCD console- the console on this bike is small and pretty basic, but it does display all the metrics you'd want to see during workouts. This includes expected stuff like speed, distance, time, and calories, but it also shows watt output, which is nice.
Bluetooth- one of the nicest things about this bike is that it is bluetooth compatible with streaming apps, most notably Peloton's Digital App. This allows the app to display your cadence (and heart rate info if using a heart rate monitor) as measured by the bike.
Fully adjustable seat- you can adjust both the height and horizontal (fore/aft) position of the seat, making it easier to find a comfortable riding position.
Height adjustable handlebars- the handlebars aren't fully adjustable, but you can adjust the vertical position. My Peloton doesn't have fully adjustable handlebars either and I've never had any issues.
Dual-sided pedals- the pedals come with a toe-cage designed for use with sneakers on one side and SPD compatible clips on the other. This allows you to use riding cleats if you like, or simply ride in sneakers.
Tablet holder- there's a built-in tablet holder located above the console, allowing you to access fitness or entertainment apps conveniently without blocking the view of your console.
Water bottle holder- and yes, there is a water bottle holder, so you won't have any problems staying hydrated during workouts.
Price
At the time of writing this, Horizon is selling the 5.0 IC for $599.
These prices can change of course, but I hope Horizon decides to keep it there for awhile because I think that's a really competitive price point for this cycle.
Based on the specs, most notable the 100 magnetic resistance levels, bluetooth, and the warranty, I think that price is pretty fair.
But what I really want to do here is compare this cycle to some of the other top competitors in its price range.
Which in this case, would be ProForm's Carbon CX and Schwinn's IC3.
The Carbon CX is priced identically (at the time of writing this anyway) and is also designed to pair with a streaming app – iFit.
The Carbon CX also comes with a 28 lb flywheel, but it only comes with 16 resistance levels. It also only comes with toe-cage pedals and has the same 250 lb weight limit, but ProForm does include a pair of 3 lb dumbbells.
Schwinn's IC3 is $100 more at $699 and it's packing a much heavier, 40 lb flywheel.
It also comes with dual-compatible pedals, fully adjustable handlebars/seat, and a 300 lb weight limit, but it uses a friction brake resistance system and isn't compatible with fitness apps.
Final Thoughts
So, based on these comps and everything we've gone over above, I think Horizon's 5.0 IC can hold its own and then some in this price range.
The 5.0 IC is a smaller, lighter-weight cycle, so I think it's best suited for smaller riders.
But I love that it comes with 100 levels of magnetic resistance and I appreciate the lifetime warranty Horizon backs the frame with.
I'm surprised Horizon didn't go all-in with the streaming plan and include a pair of 3 lb dumbbells with this cycle, but I still have to say I like the 5.0 IC better than ProForm's Carbon CX.
Mostly due to the 100 resistance levels and the fact that I'm a Peloton user myself.
Personally, I'd choose this cycle over Schwinn's IC3 as well because the friction brake is a dealbreaker for me (plus the IC3 isn't streaming friendly).
All things considered, I think the 5.0 IC is a nice budget cycle and easily one of the best options in its price range.