Back in the day, if you wanted access to premium streaming classes, Peloton was your only choice. But these days, there are tons of other options to choose from.
Like the Stryde Bike and the MYX Bike, both of which offer budget-friendlier ways to access streaming services.
Both systems include high-end indoor cycles with large, HD touchscreen displays, but the streaming features themselves are quite different.
The MYX Bike takes a heart rate guided approach, using your pulse to personalize the intensity of each ride.
The Stryde uses a more traditional workout approach, but the console consists of an open tablet system which allows you to download other fitness/entertainment apps as you please.
In a nutshell, both of these bikes are impressive -deciding on which bike is right for you really depends on what you're looking for.
And I'm here to help you figure that out.
In this article, I'll compare the Stryde and the MYX with regards to all their key performance specs and features.
After reading, you'll know which bike is the best option for your home.
The Stryde Bike
The MYX Bike
Resistance
30.5 lb flywheel
100 levels of magnetic resistance
41 lb flywheel
Friction brake resistance
Frame
135 lb assembled weight
350 lb weight capacity
134 lb assembled weight
350 lb weight capacity
Warranty
5 year frame
12 month parts
12 month labor
5 year frame
12 month parts
12 month labor
Features
21.5" HD touchscreen console
Access to other fitness/entertainment apps
Dual-compatible pedals
Fully adjustable seat
Bluetooth compatible
21.5" HD touchscreen console
Dual-compatible pedals
Fully adjustable seat
Fully adjustable handlebars
Heart rate monitor included
Bluetooth compatible
Price
$1,595
(subscription $29/month)
$1,274
(subscription $29/month)
The Stryde Bike vs The MYX Bike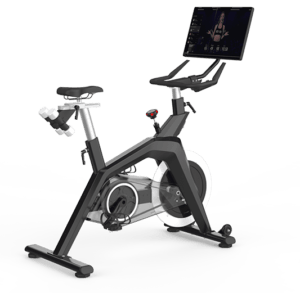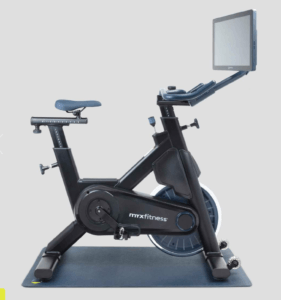 Above image courtesy of MYX Fitness
With the enormous success of Peloton (I read that they are officially a billion dollar brand as of last year), it's no surprise so many competitors are popping up trying to get a piece of the streaming pie.
I think it's obvious that the whole streaming workout thing is here to stay and personally, I welcome it.
As a happy Peloton owner myself, I appreciate the convenience of being able to access instructor-led workouts from my attic.
And as more and more streaming options become available, it's going to give us home gymers more variety to choose from, which is a good thing.
The Stryde and MYX Bikes are relatively new to the game, but they both offer different spins to in-home streaming.
As you'll see as we compare the bikes below, the bikes themselves are very similar when it comes to performance. The biggest differences are found with how their consoles and streaming services work.
Ultimately, I think most folks will decide between them based on which streaming service they prefer.
That said, let's go over the performance side of things first.
Resistance
Indoor cycles are designed with the purpose of being able to provide intense cardio workouts (well, that and to mimic the experience of riding an outdoor bike).
In order to do that, they have to have a resistance system that's capable of providing enough resistance to challenge you effectively.
Indoor cycles do this through a combination of a spinning flywheel and a friction brake/magnetic resistance system.
With a friction brake system, there's a mechanical brake (usually made of felt), that makes physical contact with the spinning flywheel- resistance is adjusted by changing how much the brake is touching the flywheel.
With a magnetic system, there are magnets near the flywheel, but they never touch. Resistance is adjusted by changing how close those magnets are to the flywheel (which is metal).
Most home spin bikes are designed to utilize heavy flywheels and in these systems, having a heavier flywheel is beneficial because it usually provides a smoother ride.
This is because the extra weight builds more momentum as it spins, which decreases any unwanted lag between pedal strokes.
With this in mind, the Stryde Bike comes with a 30.5 lb flywheel and the MYX comes with a 41 lb flywheel.
I think both are heavy enough to ensure a smooth workout, but at 41 lb, the MYX is obviously packing a much heavier flywheel.
Another notable difference is that the Stryde Bike uses a magnetic resistance system with 100 levels and the MYX uses a friction brake system.
Folks looking to mimic the Peloton experience (or pair their bike with the Peloton app) will appreciate the 100 levels the Stryde offers because it'll make it easy to use with the Peloton app.
I prefer magnetic resistance systems in general too, because they are really smooth and they don't require any maintenance (with friction brakes, you'll eventually have to replace the brake).
A perk of friction brakes, though, is that you get "unlimited" resistance levels. That said, since there are no indicators of levels, you'll have to judge based on feel alone, making it more difficult to replicate workout conditions.
Overall, the MYX comes with a significantly heavier flywheel, but I prefer the magnetic system the Stryde uses over the MYX's friction brake.
Frame
A quality indoor cycle needs a stable frame that'll feel secure while standing and climbing against higher resistance levels. I mean no one wants a wobbly or shaky bike right?
The best way to get an idea as to how secure or heavy-duty a bike's gonna feel without actually getting on and riding it is to look at the bike's assembled weight and max weight limit.
Seeing higher numbers in both cases is a good indication that the bike is well-built and is going to feel secure during workouts.
The Stryde comes with an assembled weight of 135 lb (counting the 10 lb console) and a max weight limit of 350 lb, both of which are very impressive for a spin bike.
The MYX also scores highly in this category with an assembled weight of 134 lb and the same 350 lb weight capacity (the MYX is actually a Star Trac bike, which for those who aren't familiar, is a very nice brand).
The MYX states that it can accommodate folks between 4'11" – 6'8″ comfortably, while the Stryde can accommodate people between 5'1″ – 6'5″ tall.
So, the MYX has a slightly larger height range it can comfortably accommodate, but both bikes come with very similar frame specs.
Overall, both bikes score very highly with heavy-duty frames that can hold folks of varying heights.
Warranty
I love to see a good warranty. It just warms my heart to see a company back it's product because they trust that it'll work the way it's supposed to.
When looking for a bike, the warranty shouldn't be the first and foremost priority, but it should definitely be near the top of the list.
Seeing a generous warranty is a good indicator of a bike's overall quality, with nicer bikes (usually) coming with longer guarantees.
Let's compare the warranties for these 2 bikes.
The Stryde Bike comes with the following residential warranty:
5 year frame
12 month parts (including console)
12 month labor
And the MYX Bike comes with this warranty:
5 year frame
12 month parts (including console)
12 month labor
Ok, so these 2 bikes come the same home warranty – I don't see any differences whatsoever.
5 years on the frame is very comparable to what a lot of these streaming bikes are offering (Peloton included), but whatever happened to a lifetime frame guarantee?
A year on parts is also a bit short. For a bike in this price range, I'd like to see 2-3 years on parts.
1 year on labor is pretty standard for any price range.
Overall, these warranties aren't awful, but there's room for improvement. Regardless, there aren't any differences between these 2 bikes in this category.
Features
Ok, that about does it for the performance side of things. Let's move on to the more interesting stuff.
I mentioned that there are some big differences in how these 2 bikes handle their streaming services- well, it's time to dive in and get more specific.
The Stryde Bike comes with an optional monthly streaming plan that gives you access to on-demand, instructor-led workouts.
Signing up for this service gets you access to Stryde's workouts, but you can also ride in manual mode without a subscription.
These workouts are filmed in different cycling studios around the country, giving you a taste of some of the best instructors from different areas.
With a subscription, you get unlimited access to these workouts, although at the time of writing this there aren't any live classes available yet.
The Stryde app doesn't include any other types of workouts (only cycling) like many other streaming services, but the best feature of it's console is that you can download other fitness apps directly to it.
The Stryde's console is an open tablet form, meaning you can download other fitness apps and entertainments apps to it from the internet.
This means you can access Netflix, Hulu, as well as the Peloton app or any other fitness app you like.
The Stryde's console is ANT+ and bluetooth friendly, so you can use heart rate monitors with other fitness apps, but Stryde's app isn't currently heart rate monitor compatible (which is really surprising).
The MYX's streaming service is quite a bit different.
Unlike the Stryde, all of MYX's instructor-led workouts are filmed in their own studio, which is more traditional.
A membership to their app gets you unlimited access to their on-demand workouts (no live ones yet) and they offer other types of workouts other than cycling too.
Their workouts are a little different though.
Instead of focusing on stuff like resistance levels or watt output, with MYX it's all about your heart rate.
All of their workouts are based around your fitness goals and your heart rate zones, which their program will determine for you based on your initial fitness assessment.
Based on your goals, the MYX will recommend which workouts for you to do and then use your heart rate measurements (heart rate monitor included with purchase) to ensure you're working hard enough to reach them.
This is actually a very effective way to work out, although it's probably unlike any streaming workouts you've ever done before.
During your workouts, you won't see cadence or resistance readings, it'll all be about what your heart rate is doing.
You can't download any other apps, fitness or entertainment, to the console on the MYX either, so that's another huge difference between these bikes.
Below you'll find a table listing some of the other features these 2 bikes have to offer:
| | The Stryde | The MYX |
| --- | --- | --- |
| Console | 21.5" HD touchscreen | 21.5" HD touchscreen |
| Fully adjustable seat | Yes | Yes |
| Fully adjustable handlebars | No (height only) | Yes |
| Pedals | Dual-compatible (SPD and toe-cage) | Dual-compatible (SPD and toe-cage) |
| Heart rate monitoring | No | Yes |
| Bluetooth compatible | Yes | Yes |
| Access to entertainment apps | Yes | No |
| Access to other fitness apps | Yes | No |
Price
Time to talk numbers.
Before I quote the prices for these bikes, please keep in mind that these prices can change over time- so if these numbers aren't completely accurate when you read this, don't hate me.
That said, here ya go:
The Stryde: $1,595
The MYX: $1,274
These are the costs for the standard bikes alone.
The MYX also offers a "Plus" package that includes a mat, a 6-piece dumbbell set, a kettlebell, a resistance band, and a foam roller for $1,474.
Also keep in mind the additional monthly streaming costs, which is $29/month for both apps.
Other Considerations
I like to save this area for any additional thoughts or concerns I have regarding either bike.
In this case, I don't really have much other info to add- both bikes have been pretty positively reviewed by users and neither brand has gained a poor reputation yet.
There are quite a bit of differences between these bikes and your personal preferences will help you decide which is best for you.
Final Thoughts
Alrighty, that about does it for the Stryde and the MYX.
This was a fun comparison for me to write up because there are some significant differences between these 2 cycles- and I prefer writing about these types of bikes instead of the ones that are so similar.
The first major difference is found with the type of resistance system each uses- the Stryde uses a magnetic system with 100 levels while the MYX uses a friction brake without any pre-set resistance levels.
Both bikes come with impressively heavy-duty frames and the ability to hold users of varying heights comfortably.
And there are zero differences between the warranties of these bikes.
You see the biggest differences between them when you get to the console features, however.
The MYX Bike takes a heart rate based approach, using your pulse to guide you through each workout based on the zone you should be in.
On the other hand, the Stryde doesn't even measure heart rate during your workouts (on their app anyway).
Instead, the Stryde offers more traditional workouts, based on cadence, resistance level, and watt output.
The Stryde's biggest advantage, in my humble opinion, is that you can download and access other entertainment and fitness apps directly from the console.
Based on all of this, when it comes down to a head-to-head competition between the Stryde and the MYX, the winner is…
The Stryde Bike
Yup, if I were buying one of these bikes today, I'd go with the Stryde.
I prefer the magnetic resistance system and I love the idea of being able to download other apps to the console- very cool.
But again, I'd think about which streaming design you think you'll prefer and use that to decide. Either way you go, these are both elite cycles with a lot to offer.