Even though XTERRA is known mostly as a budget-brand, they do offer a few pieces of equipment that can hang with the top brands in home fitness.
And their highest-end recumbent bike, the SB500, is a perfect example.
With a 22 lb flywheel and 20 levels of magnetic resistance, this recumbent bike has the performance specs to compete with any recumbent bike in its class.
It also comes with a heavier-duty frame and a better warranty than most in its price range.
The biggest downside I see is that the console is quite basic and is lacking a few common features found on other recumbents in this price range (like bluetooth speakers and a USB charging port).
But if you're looking for a straightforward recumbent that's easy to use, this might not be a downside.
Overall, I think the SB500 is a pretty good buy, but before you decide, you should know what to expect from this bike.
And that's where I can help.
In this review, I'll go over everything the XTERRA SB500 does and doesn't have going for it – I'll also compare it to some of the other top names in this price range to see how it stacks up.
After reading, you'll know whether or not the SB500 is the right bike for your home.
Let's begin.
The XTERRA SB500 Recumbent Bike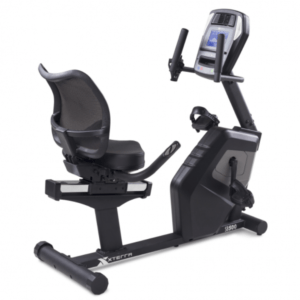 As I mentioned in the intro, XTERRA is mostly a budget fitness brand, meaning most of their products are well-under $1k (although they do offer a few higher-end, more expensive items too).
As budget-brands go, I would say XTERRA is easily one of the better options.
Their frames tend to be a little heavier-duty and their warranties are certainly better than most – which isn't too surprising, considering they're owned by the same parent company that owns Spirit Fitness, a brand who offers some of the longest warranties in the biz.
When it comes to exercise bikes, XTERRA has a lot of models to choose from, although most of 'em are compact bikes (basically just pedalers attached to a frame) and recumbents.
The SB500 is their highest-end recumbent bike to date, although their slightly less-expensive SB4500 comes with a more advanced console.
Pros
22 lb flywheel
20 levels of magnetic resistance
Heavy-duty frame
300 lb weight limit
12 workout programs
Blue backlit console
Built-in speakers
Cooling fan
Chest strap heart rate monitor included
Great warranty
Cons
No bluetooth
No USB charging
Price a little higher than some top competitors
Resistance
Let's get things started by taking a look at what the SB500 has going on under the hood.
I realize most folks aren't opting for a recumbent bike because they're looking for strenuous workouts, but that doesn't mean a quality recumbent bike shouldn't be able to challenge ya.
Plus, keep in mind that a recumbent's resistance system is largely responsible for determining how smooth the pedaling motion is too.
So even if you aren't planning on cranking up the resistance, having a more advanced resistance system is still beneficial.
Recumbent bikes work basically the same as upright bikes and indoor cycles, in that most of 'em use a weighted flywheel and a magnetic system to create the resistance you feel.
And like most other types of bikes, recumbents can also benefit from having more weight in the flywheel department.
This is mostly because heavier flywheels create more momentum as they spin and this momentum helps keep the pedals moving a little between pedal strokes.
Which helps keep the pedals moving, reducing any lag or awkwardness between strokes.
With all of this in mind, the SB500 comes with a 22 lb flywheel.
This is a lot heavier than the 11 – 13 lb flywheels found on budget recumbents, but how does it really stack up against the other top options in this price range?
Well, Sole's R92, which at the time of writing this costs about $100 less than the SB500, comes with a 20 lb flywheel.
There's also NordicTrack's VR25, which costs about 100 more than the SB500, which comes with a 25 lb flywheel.
Diamondback's similarly priced 1260sr also comes with a 25 lb flywheel.
Based on these comps, I feel confident saying the SB500 comes with a heavy flywheel for its price range.
XTERRA pairs this heavy flywheel with 20 levels of magnetic resistance, giving you a good level of control over the intensity of your workouts.
Having more resistance levels doesn't mean more overall resistance (although having a heavier flywheel usually does), but it does mean you can make smaller adjustments between resistance levels.
In terms of resistance levels, the 1260sr offers more at 32, as does the VR25 at 26, but with 20 levels you still get a lot of options to work with.
Overall, the SB500 scores highly in the resistance department with its heavy flywheel and generous selection of resistance levels.
Frame
One of the most notable features of most budget bikes is how lightweight and flimsy they feel.
This is because most budget bikes weigh significantly less than their more expensive counterparts – after all, there are real reasons why some bikes cost more than others.
Anyway, determining how heavy-duty or stable a bike is before purchasing can be challenging without getting the change to try it out first.
But looking at the assembled weight is a good way to do just that.
After all, this spec tells us exactly how much the bike weighs – and heavier bikes are going to feel more stable than lighter ones.
How heavy is heavy enough?
Generally speaking, anything over 100 lb is pretty good, but higher-end bikes should weigh even more than that.
The SB500 comes in with an assembled weight of 128 lb, which is pretty solid for a bike in this price range.
For the sake of comparison, Sole's R92 weighs in at 134 lb, so just a few pounds more. NordicTrack's VR25 comes with a 192 lb "in box weight", so you'd have to subtract the weight of all the packaging, making it harder to compare…
But Diamondback's 1260sr comes with an assembled weight of 145 lb.
Based on these comps, the SB500 isn't quite as heavy-duty as some of the other top recumbents in this price range, but it's still got enough weight behind it to feel stable during workouts.
The SB500 also comes with a weight capacity of 300 lb, which is pretty standard for any decent recumbent bike and allows it to hold most riders safely.
And with a footprint of only 55″ x 28″ (L x W), the SB500 is a little more compact than some of these bikes already mentioned.
Overall, the SB500 isn't as heavy-duty as some of the other top models in this price range, but it should still be heavy enough to provide a stable feel during use.
Warranty
XTERRA backs the SB500 Recumbent Bike with the following residential warranty:
Lifetime frame/brake
3 year parts
1 year labor
As a whole, I think this bike comes with a fantastic warranty, but let's take it one section at a time.
Few brands offer lifetime frame warranties these days, so this is something that sets XTERRA apart from most.
Sole still offers lifetime frame warranties, but NordicTrack only offers 10 years and Diamondback only offers 5.
Three years on parts is also better than the 1-2 years most other brands offer. Sole and Diamondback also offer 3 year parts warranties, but NordicTrack stops at 2 years.
A year on labor is pretty standard across all brands, so nothing too special going on there.
Overall, the SB500 comes with a great warranty, regardless of price range.
Features
The SB500 Recumbent Bike comes with the following features:
6.5″ console- the console on the SB500 is pretty basic, but it's large enough to see easily and it's blue backlit for better visibility. You can see all your workout metrics simultaneously, so you don't have to scan through to see your chosen metric.
12 workout programs- this bike doesn't come with a ton of built-in workouts, but it's got enough to get the job done. These workouts include manual mode, 7 preset profiles, 2 heart rate workouts, and 2 custom options.
Adjustable seat- the seat is adjustable to fit users up to 6'4″ tall and the backrest is vented and comes with built-in lumbar support. Most folks find the seat comfortable to sit on during workouts.
Heart rate monitoring- there are built-in grip monitors in the handles near the seat, but XTERRA also includes a chest strap heart rate monitor for more accurate readings during workouts.
Built-in speakers- you can plug your phone or mp3 player up to the console via the audio port, allowing you to listen to music through the bike's built-in speakers. But do phones even have audio ports any more?? Bluetooth speakers would be a lot more convenient given today's technology.
Cooling fan- there's a cooling fan built-into the console, allowing you to stay a little more comfortable during those more strenuous workouts.
Water bottle holder- yup, there's even a place to hold your beverage.
Price
Before we wrap things up, I think it's a good idea to talk numbers a little.
At the time of writing this, XTERRA has the SB500 on sale for $1,099 (keep in mind these numbers can change at any time, so don't hate me if this isn't accurate by the time you read this).
I've already mentioned a few of the biggest comps in this price range a few times, but let's compare prices now.
At the time of writing this, Sole's R92 is priced at $999 and NordicTrack's VR25 is priced at $1,199; Diamondback's 1260sr is also priced at $999.
So, with all of these bikes being priced so similarly, does it make sense to choose the SB500?
Final Thoughts
I gotta say, the SB500 finds itself in a very competitive price range.
When compared to these other elite recumbents, the SB500 holds its own quite well in terms of performance.
It comes with a heavy flywheel, plenty of resistance levels to choose from, and a pretty heavy-duty frame.
The VR25 and 1260sr both come with heavier flywheels and more resistance levels, but that alone might not be enough reason to choose one over the other.
Something that the SB500 certainly has going against it though is how simple its console is – all of the other bikes mentioned in this review have more advanced consoles with bluetooth and USB charging features.
But, with the exception of Sole's R92, the SB500 offers a better warranty than all of 'em.
Tough call.
Honestly, I think Sole's R92 and Diamondback's 1260sr are both better buys considering they're both about $100 cheaper than the SB500.
And the VR25 is probably worth the extra $100 too, with the heavier flywheel, more advanced console, and access to iFit (if that's something you're interested in).
I think XTERRA would be better off to drop their price on the SB500 to somewhere in the $899 range because at that price, I think it would make a lot more sense.
But at $1099, I think there are better options out there.