The EX-8s is Echelon's premiere connected bike to date and it comes with some pretty cool features.
The 24″ curved HD console is certainly impressive, but the EX-8s also comes with a brightly-lit flywheel that changes colors based on your preferences.
The light show makes for a flashy presentation, but what about performance?
Well, the EX-8s comes with a 28 lb flywheel, 32 levels of magnetic resistance, a belt drive, and a pretty robust frame that can handle riders weighing up to 300 lb.
Oh, and it also comes with dual-compatible pedals and an E-Shock frame that's designed to flex a little to help absorb some of the forces when standing and pedaling against heavier resistances.
But it's not all good news with this cycle – the EX-8s comes with a high price tag and it's warranty is way too short for a bike in this price range.
Long-story-short, I think the EX-8s is a neat bike, but I think there are better buys in this price range.
If you're interested in the longer story, keep reading.
In this review, I'll go over everything this indoor cycle has to offer, as well as where it falls short; I'll also try to compare it to some of the other top cycles in this price range.
After reading, you'll know whether or not this is the right cycle for your home.
Let's do this.
The Echelon EX-8s Connect Bike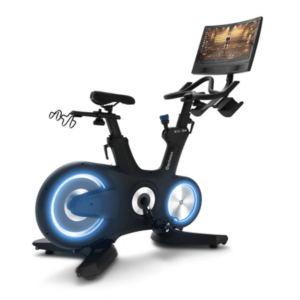 Echelon's been around for awhile now and if I remember correctly, I believe they were one of the first real competitors to Peloton.
Peloton was the first brand to create an indoor cycle with a huge HD touchscreen console for streaming workouts, but now there are several options to choose from.
Anyway, Echelon started out as a budget-friendlier alternative to Peloton.
Their gimmick was that you could save a lot of cash by using your own tablet as the console.
You buy the bike, which at that time was half the price of the Peloton, connect your tablet to the bike via bluetooth, and off you go – I have to say, it was a smart play.
But over the years, Echelon started offering bikes with built-in consoles and higher price tags, which I found surprising, but I'm assuming it payed off for 'em because Echelon's still here and their lineups continue to evolve.
Speaking of which, the EX-8s we're here to go over now is their highest-end cycle to date.
We'll go over price in more detail later, but the EX-8s is priced in the same league as the other top streaming cycles, so it's got some serious competition.
Pros
24″ curved HD touchscreen
28 lb flywheel
32 levels of magnetic resistance
Belt drive
300 lb weight limit
e-Shock frame
Fully adjustable seat
Dual-compatible pedals
Flywheel lighting
Dumbbell holders
Dual water bottle holders
Cons
Expensive
1 year warranty
Lot of competition in this price range
Resistance
The EX-8s is an indoor cycle, meaning it's designed to mimic the feel of riding a road bike.
This means it's designed to handle fast cadences and provide high resistances to give you the feel of ascending steep inclines, flat roads, and everything in between.
I think it's important to consider the performance specs for any exercise bike, but it's especially important for indoor cycles because these bikes are historically used the most for higher-intensity workouts.
Anyway, when it comes to performance specs for indoor cycles, the flywheel weight is a big one.
The flywheel is what spins as you pedal and having a heavier one is usually a benefit (at least for most home bikes) because heavier flywheels usually provide a smoother pedaling feel.
More weight means more momentum as it spins, which makes for a smoother rotation.
Well, flywheels on indoor cycles can be massive these days, weighing upwards of 50 lb, but personally, I think anything around 30 lb is easily heavy enough to offer a great pedaling motion.
With that in mind, the EX-8s comes with a 28 lb flywheel.
This is right around that 30 lb mark, so it should be heavy enough to provide a smooth feel, but it's still pretty light compared to the flywheels found on the top competitors in this price range.
For example, the original Peloton Bike uses a 35 lb flywheel and the NordicTrack Commercial S22i uses a 32 lb flywheel.
And the significantly more affordable Schwinn IC4 comes with a 40 lb flywheel, so there are certainly much heavier flywheels in this price range.
But again, I still think 28 lb can get the job done.
The EX-8s uses a magnetic resistance system and comes with 32 levels to work with, giving folks a lot of control over their workouts.
Some of the indoor cycles mentioned a sec ago come with 100 levels and having more levels does give you even more control to fine tune your resistance, but it doesn't necessarily mean more overall intensity.
As a Peloton owner, I'm accustomed to the 100 level scale and I love it – but 32 resistance levels is still a lot to work with.
I also want to point out that the EX-8s does use a belt drive, which is preferred to a chain drive because its quieter and doesn't require maintenance.
Overall, the EX-8s scores decently in the resistance department.
It's flywheel isn't massive, but it's heavy enough to get the job done and it has enough resistance levels to offer a good amount of control over workouts.
Frame
When comparing exercise bike frames, I like to look at the assembled weights and the weight limits (if you're exceptionally tall, you'll want to look for height limits too, but at 6'1″, I don't really have that problem).
I like to see a higher assembled weight because to me, that means the bike should feel more secure.
After all, heavier bikes will be harder to move, so they should move less when you're on 'em – meaning heavier bikes should wiggle less during workouts.
I like to see assembled weights over 100 lb to ensure a nice stable bike, but this rule isn't written in stone (Keiser's M3i only weighs 92 lb and it's rock solid).
Anyway, the EX-8s weighs in at 124 lb, which is pretty good for an indoor cycle.
This is well over the 100 lb line in the sand I drew, so this bike should feel nice and stable during rides.
The EX-8s also comes with a weight limit of 300 lb – this is pretty average, especially for a bike in this price range, but it'll still let most folks safely ride it.
With a footprint of 59″ x 23″, this cycle is a little longer than your average model, it'll still easily fit in most rooms.
For the sake of comparison, the original Peloton weighs in at around 135 lb and has a weight limit of 297 lb and the Commercial S22i weighs just under 200 lb and has a weight limit of 350 lb.
Overall, Echelon's EX-8s is a solidly built bike that should feel stable while sitting or standing during workouts.
Warranty
Echelon offers the following home warranty on their EX-8s Connect Bike:
Yeah, this is my biggest issue with Echelon – their warranties suck.
Echelon offers the same 12 month warranty for all their bikes and I'm sorry, but that's way too short for a bike in this price range.
For the sake of comparison, NordicTrack offers 10 year frame warranties, 2 years on parts, and a year for labor; Sole's SB900 costs half of what the EX-8s does and it comes with a lifetime frame guarantee and 3 years on parts.
Hell, Peloton's warranty isn't great, but they still offer 5 years on the frame and a year for parts/labor.
And there are a ton of other examples I could give to show how much better most other brands' warranties are.
My point is, Echelon's warranty for this cycle is very short and this is certainly something to consider when thinking about spending this kind of money on an exercise bike.
On the plus side, they do offer a 30 day return policy, so if you don't like your bike, you can send it back for a refund.
Features
The Echelon EX-8s comes with the following included features:
24″ curved HD touchscreen- this bike comes with a huge, curved HD touchscreen console that makes it easy to view all your streaming workouts. I can't believe NordicTrack let Echelon beat 'em to using curved consoles… well played Echelon…well played. The console can rotate 180° too, making it easy to view off the bike workouts from any angle.
Echelon membership- speaking of workouts, you need an Echelon membership to access the 1,000's of on demand and live courses. A monthly membership goes for around $35/month, but you can save a little money by paying annually.
e-Shock frame- this cycle comes with a flexing frame that's designed to absorb some of the stresses that come with standing and pedaling against higher resistances. This is a cool feature that makes for an even lower impact workout.
LED lighting- there are LED lights built around the flywheel and the front part of the drivetrain and you can adjust them to several different lightening settings based on what you're looking for. The lights look cool, but it seems like they'd really just give bystanders something to look at while you ride.
Handlebar controls- you can control the resistance of your workouts through conveniently located handlebar buttons.
Dual-sided pedals- the pedals come with a toe cage on one side and SPD compatible clip ins on the other side, allowing you to wear cleats or sneakers during rides.
Fully adjustable seat- you can adjust the height and fore/aft position of the seat, making it easier to find the right riding position.
Dual water bottle holders- and with room to hold 2 water bottles, you don't have any excuses for not staying well hydrated.
Dumbbell holders- oh yea, there's also room to hold 2 small dumbbells as well.
Price
Ok, so I've referred to this bike's "price range" a few times, but let's get more specific.
At the time of writing this review, the EX-8s has a full retail price of $2299, but it's on sale for $1,955.
I don't know how long this sale will last, but I think it's safe to say this cycle generally costs around $2k.
This is expensive for an Echelon and it puts the EX-8s in direct competition with the streaming giants of Peloton and NordicTrack.
As I'm writing this, the original Peloton is actually selling for $1,445, making it about $500 less than the EX-8s – it's console isn't curved and it doesn't rotate, but it's still 22″ and this cycle comes with a heavier flywheel, 100 resistance levels, and a better warranty.
Plus, Peloton still has the best instructors and workouts if you ask me.
There's also NordicTrack's Commercial S22i, which costs around $2k and it comes with a 32 lb flywheel, 22″ HD console, 24 resistance levels, and a much better warranty.
And it also offers the ability to ascend/descend to mimic the sensation of riding hills.
I also want to mention ProForm's Studio Bike Pro 22 – it's around $1300 and it comes with a 32 lb flywheel, 24 resistance levels, a 22″ HD console, and it's iFit ready.
The weight limit is only 250 lb, but it's a pretty good deal for the price.
Final Thoughts
Alright, I think that will about do it here.
In terms of performance, the EX-8s is respectable – the flywheel is heavy enough to offer a smooth feel and with 32 resistance levels, you'll have good control over your workouts.
And the huge curved console is nice, although I have to say I can't imagine its "curviness" making any real difference in terms of your workout experience.
And the same goes for the lighting – neat, but adds no real value.
Honestly, I've never been a huge fan of Echelon's – back in the day, I could see going with one of their cycles to save some money, but these days we have a lot of nice streaming cycles to choose from.
And even though the EX-8s has some cool features, I couldn't imagine dropping $2k on it – not when there are so many other great cycles that cost the same (or much less).
Overall, I applaud Echelon for trying to think outside of the box, but I think there are much better buys out there.