The GT+ is one of Echelon's newest and most affordable Connect Bikes yet and it comes with a few interesting design changes.
Not only is this one of the only Echelons with a front-mounted flywheel, but it's also the only one I'm aware of where you get to pick your color.
Which is a definite plus for the folks out there that need a little pop of color in their home gym.
Another interesting fact is that Echelon is donating a percentage of each GT+ they sell to the Susan G. Komen breast cancer organization until August of 2023 – well done Echelon!
I'd like to applaud Echelon for their generosity, but when it comes to the GT+ itself, there are a few downsides worth knowing about – most notably the light flywheel, the lightweight frame, and the short warranty.
If you're looking for an affordable cycle that's easy on the eyes, Echelon's GT+ Connect Bike could be worth investing in, but before you decide you have to know what you're getting into.
And that's where I can help.
In this review, I'll go over everything this bike does and doesn't have going for it.
After reading, you'll know everything you need to in order to decide for yourself whether or not Echelon's GT+ Bike is the right fit for your home.
Let's get to it.
The Echelon GT+ Connect Bike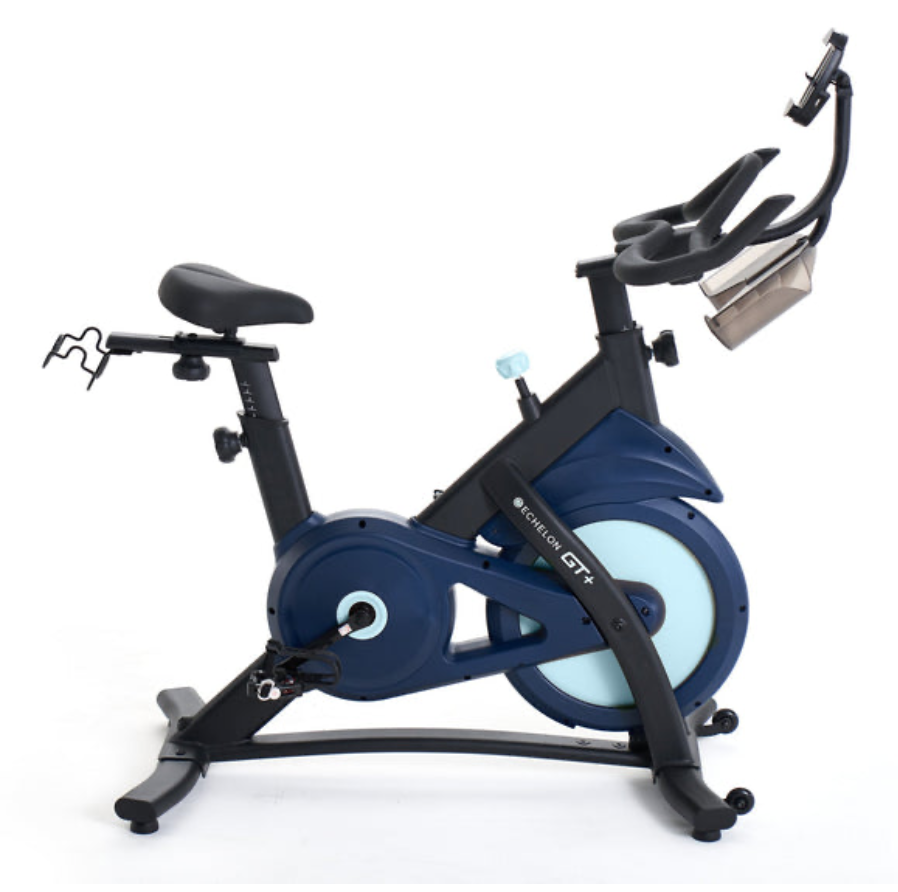 Echelon's been around for a while now and they're one of the original Peloton competitors.
And instead of going toe to toe with Peloton, which would've been quite risky back at the beginning, they decided to offer a significantly more affordable alternative by ditching the huge touchscreen and letting folks use their own tablets instead.
Which was genius.
And also effective – Echelon has been quite successful.
With their success, they started expanding their lineup and eventually started offering more expensive bikes that did come with huge consoles, putting them in direct competition with the likes of Peloton and NordicTrack.
Personally, Echelon makes a lot more sense to me as a budget brand – I don't see the rationale to choose and Echelon cycle that costs just as much as a Peloton…
Regardless, the GT+ we're here to discuss now doesn't fall into that category.
We'll discuss cost a little later, but the GT+ is one of their more affordable cycles, costing a few hundred bucks more than their EX-15 (which I think is one of their best deals).
Anyway, let's start by taking a look at how this cycle performs.
Pros
Choice of color
Portion of each sale donated to Susan G. Komen foundation
32 levels of magnetic resistance
Belt drive
Access to instructor-led workouts via Echelon app
300 lb weight limit
Fully adjustable seat
Fully adjustable handlebars
Dual-compatible pedals
Dumbbell rack
Large tablet holder
Larger, more comfortable seat
Dual water bottle holders
Cons
Light weight flywheel
Light weight frame
Short warranty
Resistance
A spin bike's resistance system is important because it gives you something to push against of course, but it's also largely responsible for determining how smooth the pedaling motion is.
And if you've ever used one of those pedalers or a real crappy exercise bike before, you know that not all bikes feel the same.
Most stationary bikes create a smooth pedaling motion by using a heavy flywheel because the extra weight builds momentum, which helps keep the pedals moving a little between pedal strokes.
The result is a seamless feel without any lag or awkward spots between strokes.
These days, even affordable cycles are packing flywheels in the 40 – 50 lb range, but I think anything around 30 lb or so is easily big enough to get the job done.
With all of this in mind, the GT+ comes with a flywheel that weighs 15.4 lb (7 kg).
This is light for an indoor cycle, and we're not talking about "designed to be light weight" like the Keiser or ICG bikes are.
With a lighter flywheel, I wouldn't expect the GT+ to feel as fluid as a cycle packing a heavier one, but the GT+ does come with a belt drive, which helps.
Echelon also uses a magnetic resistance system on this cycle, which also helps in terms of smoothness and quietness of operation.
I prefer magnetic systems to friction brakes, so I consider this a perk.
The GT+ comes with 32 resistance levels, giving riders a lot of control over the intensity of each workout.
Some cycles in this price range (like Bowflex's C6 or Schwinn's IC4) offer 100 magnetic resistance levels, offering even more control.
Keep mind though, that having more levels to choose from doesn't necessarily mean more overall resistance, it just means you can make smaller changes between levels.
But having a light flywheel usually means less overall resistance.
Overall, folks looking for a high performing cycle will likely be disappointed with the light flywheel found on the GT+, but more casual riders probably won't mind.
Frame
I have to admit, the GT+ is pretty sharp looking – and it's pretty cool you get to pick between 4 different festive colors…
But looks aside, this is a very light weight bike.
And yes, by "light weight" I mean the opposite of "heavy weight.
When trying to decide how heavy or light weight a bike is going to feel, I think it makes the most sense to look to the assembled weight spec because this tells us exactly how much the bike weighs.
And heavier bikes tend to feel more stable than lighter bikes, especially for larger riders.
The GT+ weighs 88 lb fully assembled, which might sound like a lot, but it's kinda low considering most higher-end cycles in this price range weigh over 100 lb.
A few examples: the IC4 mentioned above weighs 106 lb, Diamondback's 510 Ic weighs 104 lb, and Sole's SB900 weighs a whopping 160 lb.
So, based on the comps, I don't consider the GT+ to be a heavy-duty bike because it's below average in terms of assembled weight.
To be fair though, the lighter weight will make this cycle easier to move and smaller folks probably won't notice the difference.
This bike also comes with a 300 lb weight capacity, which is pretty average for indoor cycles.
Overall, the GT+ is fairly light-weight when compared to most of the other top cycles in this price range, but those colors options are still lovely.
Warranty
Echelon backs their GT+ Connect Bike with the following residential warranty:
12 month parts
12 month labor
Light flywheel and light weight frame, ok, not necessarily a deal breaker because smaller, recreational riders might not notice…
But add a really short warranty into the mix and you've gotta do some thinking.
There's no getting around the fact that this isn't a very good warranty for a bike in this price range.
For the sake of comparison (that's kinda this website's jam), other similarly priced bikes are offering 10 years to lifetime frame guarantees and 2-3 years on parts.
One year warranties are what we expect on bikes more in the $500 and below range.
And what's even crazier, Echelon backs all of their bikes with this same lame warranty –  even their higher-end models costing well over $1k.
Overall, Echelon's warranties could use some work.
Features
The GT+ Connect Bike comes with the following features:
Choice of color- you get to choose between 4 different colors, including blue, orange, purple, and limited edition Susan G. Komen pink. The ability to choose between these delightful colors is one of this bike's most redeeming qualities if you ask me.
Bluetooth- this cycle doesn't come with a console. Instead, it's designed to pair with your tablet or phone via bluetooth to Echelon's streaming app. This is how you access the instructor-led workouts and see all of your workout metrics. You have to pay  a monthly fee to use the streaming service ($35/month), but you can ride in manual mode without it (and still see your metrics).
Tablet holder- considering you have to use your tablet as the console, the inclusion of a tablet holder is paramount. The holder also has a convenient set of hooks designed specifically for holding your phone too, which is cool.
Fully adjustable seat- you can adjust the height and horizontal (fore/aft) position of the seat, allowing you to find the best fit.
Wider seat- the seat on this cycle is significantly wider than your traditional indoor cycle saddles, making it more comfortable for most riders.
Fully adjustable handlebars- you can also adjust the height and fore/aft position of the handlebars for even more customization.
Dual-compatible pedals- the pedals on the GT+ have a toe cage on one side and SPD compatible clips on the other. This means you can wear cleats or sneakers during your workouts.
Dumbbell rack- there's an attached rack in the rear of the bike to hold a pair of dumbbells, but none are included with purchase (that would be nice).
Water bottle holders- there's also a place to hold 2 water bottles, making it easy to stay hydrated during workouts.
Price
At the time of writing this, the Echelon GT+ is on sale for $899.
Even though there are tons of more affordable cycles out there, with a price well under $1k, I still consider the GT+ a pretty budget-friendly bike.
Especially considering higher end cycles can easily cost over $2k.
I've already mentioned a few of the other top cycles in this price range, but let's compare a little more here.
Schwinn's IC4 and Bowflex's C6 are identical in terms of performance and specs and I consider them both to be some of the best options in this price range.
They both usually come with a full retail price of $999, but are often on sale for less through Amazon.
Anyway, the IC4/C6 comes with a 40 lb flywheel, 100 levels of magnetic resistance, and a 10 year frame/3 year parts warranty.
Sole SB900, also about $999, comes with a 48 lb flywheel, micro-adjustable magnetic resistance system, and a lifetime frame/3 year parts warranty (and is ridiculously heavy-duty).
There's also the more affordable ProForm Carbon CX, which comes with a 28 lb flywheel, 16 magnetic resistance levels, an included pair of dumbbells, and a 10 year frame warranty.
Honestly, there are a ton of other great bikes I could mention in this price range, but I think I've made my point here – the GT+ is a bit under-whelming when it comes to performance.
Final Thoughts
But realistically, performance might not be the priority for folks considering this cycle.
It's true, the GT+ comes with a lighter flywheel, a lighter frame, and probably won't be able to provide enough resistance to challenge stronger riders, but it's a cool looking bike that's more comfortable to use than most.
Plus, it's pretty awesome that a portion of each sale (3% I think) goes to support breast cancer research.
I didn't really mention it up above, but this cycle is also one of the more affordable streaming bikes out there – so if you're looking to get your stream on without destroying your budget, that's a definite perk.
Overall, I think serious riders should consider a tougher, heavier-duty bike, but folks just looking for a fun, comfortable cycle will likely be pleased.