Titan's Fan Bike comes with a few nice features we don't usually see on air bikes, like a removable air guard, a phone holder, and huge turf tires that make it easy to take outside.
It also comes with a bluetooth heart rate strap compatible LCD console with built-in interval programs.
This is all great, but more importantly, the Fan Bike's performance specs are legit too.
More specifically, this bike comes with a 27″ fan, a robust frame, a fully adjustable seat, and an impressive 330 lb weight limit.
The only real place the Fan Bike falls short is in the warranty department – with only a 1 year guarantee, Titan's warranty department has plenty of room for improvement.
Overall, if you're looking for a moderately-priced air bike, Titan's Fan Bike could be worth investing in, but it's a good idea to learn everything you can before making that decision.
And that's where I think I can help.
In this review, I'll be going over everything this bike does and doesn't have going for it – I'll also compare it to some of the other top options in its price range to see how it stacks up.
After reading, you'll know whether or not the Fan Bike is the right option for your home.
Let's do this.
The Titan Fan Bike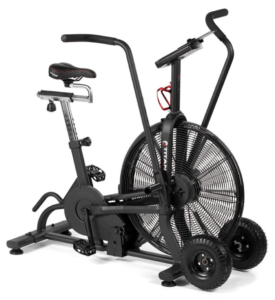 Titan's a pretty well-known budget brand. They have a decent reputation as budget brands go and they have a pretty large selection of equipment to choose from.
The Fan Bike we're here to discuss now is the only cardio machine they offer though – they mostly specialize in strength training gear.
Think racks, plates, bars, and all that kind of stuff.
As a brand, they've had their fair share of complaints from users regarding quality control in the past, but to be fair, most budget brands deal with this problem at some time or another.
After all, there are usually good reasons why some products are more affordable than others.
Anyway, back to the Fan Bike.
I want to start this review off with a rundown off its performance specs, then we'll move onto the extra features it comes with.
Pros
27″ steel fan
Heavy-duty frame
330 lb weight limit
LCD console
Bluetooth heart rate monitoring
Turf tires
Removable air guard
Phone holder
Water bottle holder
Built-in transport handle
Cons
Short warranty
Some complaints regarding console
Resistance
As the name likely implies, the Fan Bike uses a spinning fan and air to create its resistance – there are no weighted flywheels or magnetic levels on this bike.
All air bikes work the same, so there aren't a lot of specs to go over with regards to the resistance here, but I do want to point out a few things.
The great thing about air bikes is that the resistance you feel depends entirely on how hard you pedal – pedal harder/faster and you get more resistance; slower and less.
This is awesome because it means these bikes don't really have a limit to how much resistance they can offer, making them great for higher-intensity workouts (like HIIT).
That said, I still think it's a good idea to check out the size of the fan.
All fans work the same way with their resistance and whatnot, but larger fans are still going to be able to provide more overall resistance than smaller ones.
That's because a larger fan will come into contact with more air, thus creating more resistance.
If you look at a lot of the more affordable air bikes (under $500), you'll notice how much smaller their fans are – these bikes can still offer good workouts, but folks looking for higher-end workouts should consider going with a bike with a larger fan.
That said, the Fan Bike comes with a 27″ fan, which is as large as they come.
With a fan this large, the Fan Bike will be able to provide as much resistance as any other top-tier air bike out there, like the Assault Bike, Rogue Echo, or Airdyne AD7.
So, in terms of fan size, the Fan Bike is right up there with the best of 'em.
It's also worth knowing that this air bike uses a chain drive (as opposed to a belt drive).
Personally, I don't see this as that big a deal, but technically, chain drives tend to make more noise and will likely require some lubrication occasionally for maintenance.
Belt drives are a little quieter and don't require lubrication.
I know belt drives are preferred, but air bikes are noisy to begin with, so I don't think the extra few decibels the chain adds makes a big difference… but still worth considering.
Anyway, the Fan Bike scores highly with its large steel fan that can provide as much resistance as you can handle.
Frame
Ok, so the Fan Bike comes with a big fan, excellent. But what about the rest of the bike?
Well, air bikes are pretty simple devices that don't usually have a bunch of fancy features, but it's still a good idea to look at the frame itself.
And by this, I'm really talking about how heavy-duty (or light-duty) it is.
This trait can be difficult to assess, but I think looking at the assembled weight spec is a great way to get an idea as to how stable the bike should feel during use.
And that's because the heavier a bike is, the harder it should be to move.
This can be a bad thing when it comes to transporting the bike, but it's a good thing when it comes to the bike feeling secure while you're on it.
Heavier bikes should be less likely to wiggle around or wobble while you're pedaling away on it.
The Fan Bike comes with an assembled weight of 111 lb and I know that info alone might not mean that much to ya.
I look at a lot of exercise bikes and can tell you that an assembled weight of 111 lb is pretty good, but again, why trust me?
Instead, I think it makes sense to compare this to other similarly priced bikes to see how it really stands up… so, that's what we'll do.
The AssaultBike Classic has been one of the most popular air bikes on the planet for years and it turns out it's priced almost identically to the Fan Bike (as I'm writing this anyway).
And the AssaultBike comes with an assembled weight just shy of 96 lb.
The Rogue Echo costs about $150 more and weighs an impressive 127 lb, making it one of the heaviest-duty air bikes on the market.
There's also Schwinn's AD6, which costs about $100 more than the Fan Bike and it weighs in at an almost identical 112 lb.
Sooo, based on these 3 comps, I would say it's fair to call the Fan Bike a pretty heavy-duty air bike, especially for the price.
I'd also like to point out that this bike comes with a weight capacity of 330 lb, allowing folks of all sizes the ability to safely use it.
This is also higher than the AD6's and AssaultBike's 300 lb weight limit (the Echo has it beat with a 350 lb capacity).
And with a footprint of roughly 50″ x 20″, the Fan Bike is pretty average in terms of physical size.
Overall, when it comes to the frame, I like how heavy the Fan Bike is because it'll make for a more stable feel during those high intensity workouts.
Warranty
Titan Fitness backs their Fan Bike with the following home warranty:
This is a really short warranty for a bike in this price range.
A year is ok, I guess, when it comes to the parts, but a year on the frame is much shorter than what most other brands are offering.
For example, Assault Fitness offers a 5 year frame guarantee on their Classic AirBike and Schwinn offers 10 year frame guarantees on their Airdynes.
Surprisingly though, Rogue only offers a 2 year warranty on their Echo Bike and its the heaviest-duty of the bunch.
Anyway, my point is that Titan's warranty could be much better.
Features
The Titan Fan Bike comes with the following features:
LCD console- this bike comes with a pretty simple console, but it can still display all the metrics you'd expect, including time, distance, calories, speed, and watt output. It also comes with a few built-in interval and goal-oriented workouts. Some users have complained that the small buttons make it kinda hard to use though.
Heart rate monitoring- the console is compatible with bluetooth heart rate monitors though, so you can get more accurate readings during workouts.
Fully adjustable seat- the seat is fully adjustable, meaning you can adjust both the height and fore/aft position, making it easier to find a comfortable riding position.
Turf tires- I haven't seen many air bikes that come with these, but it's a pretty cool feature. These larger tires make it easier to take this bike outdoors, so you don't have to always workout inside.
Fan guard- this removable shield helps block the air produced by the fan from smacking ya in the face during workouts.
Water bottle holder- this handy device gives you a place to put your water bottle.
Phone holder- there's a little shelf off the top of the console that gives you a place to store your phone during workouts.
Built-in handle- there's also a built-in handle near the rear of the bike, giving you a convenient hold while transporting it.
Price
At the time of writing this, Titan has the Fan Bike listed for $699.
You might be able to find it through other retailers too, but as I'm writing this, I don't see anybody with it any cheaper.
So, at roughly $700, there are a few key competitors worth mentioning.
The most obvious is the AssaultBike Classic, which is listed identically at $699.
The AssaultBike also comes with a 27″ fan and its frame isn't quite as bulky, but it's warranty is much better (5 year frame, 2 year parts) and it's got a stellar reputation with holding up to all the Cross Fit athletes.
There's also Schwinn's Airdyne AD6, which is a bit more at $799.
The AD6 is equally robust and comes with a much better warranty (10 year frame, 2 year parts), but its fan is a little smaller.
Finally, there's Rogues Echo, which at $845, costs a good $150 more, but it's quite a bit heavier-duty, comes with a 27″ fan, and has a belt drive.
Final Thoughts
So, based on what Titan's Fan Bike has to offer and looking at the closest comps, I'd say the Fan Bike holds its own quite well.
Like most the other top air bikes, it comes with a 27″ fan and sleek, heavy-duty frame.
The warranty could certainly be better, but it does come with a few extras other air bikes make you pay extra for – like an included fan guard and water bottle holder.
But the most unique feature of the Fan Bike has got to be the turf tires.
But is the Fan Bike worth buying… that's the real question.
Personally, I think it depends on whether or not you like the idea of using it outside.
If yes, then I could see opting for the Fan Bike because the turf tires will make it a lot easier to move around, especially over uneven terrain.
If no, I think it makes more sense to go with the tried and true AssaultBike Classic for the longer warranty (and reputation).
Either way, I think the Fan Bike has earned its spot as one of the best air bikes of the year.